This is the last part of the series, at least until some more multimedia software shows up at my favorite thrift shop or the other boneyards I scavenge.
Miscellaneous Multimedia Programs
This set includes the titles Matinee FMV Screensaver, MetaCreations Painter Classic, and Multimedia JumpStart. The second one is likely a creation program. I have no idea what the third one is, while the first title gives me chills just thinking about the implications.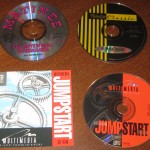 Miscellaneous Creativity Software Continue reading →