August 19th, 2010 by

Multimedia Mike
This is the last part of the series, at least until some more multimedia software shows up at my favorite thrift shop or the other boneyards I scavenge.
Miscellaneous Multimedia Programs
This set includes the titles Matinee FMV Screensaver, MetaCreations Painter Classic, and Multimedia JumpStart. The second one is likely a creation program. I have no idea what the third one is, while the first title gives me chills just thinking about the implications.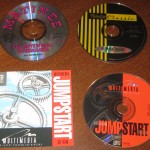 Miscellaneous Creativity Software
Magic Theatre and Microsoft Home: Creative Writer. I think I loaded up the former once to find a very basic animation program. The latter isn't necessarily multimedia-related but certainly classifies as creative software. It also reminds me of the ad I once spied in Entertainment Weekly magazine during the mid-1990s for a Microsoft music history CD-ROM. MS branched out into all kinds of niches.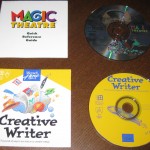 More Multimedia Creativity Software
VideoCraft and U-Create Games & Animation. I wager these would be fun to play around with if I had the time.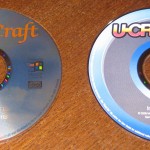 Showcase CD-ROMs
"What Can You Make? Showcase 7" from Macromedia and Microsoft Multimedia Pack 10.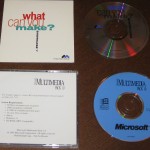 Basic Multimedia Software Discs
As a multimedia nerd, these Apple QuickTime and Microsoft Video for Windows discs make me sentimental.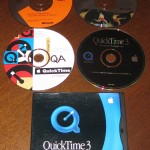 Real Software Collection
Grit your teeth and gaze upon CD-ROM distributions of Real's software. There is a RealAudio disc back from when Real still called themselves Progressive Networks. "Everything you need to hear the web roar!"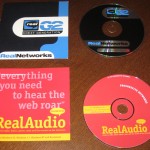 Clips
And a few multimedia clip CD-ROMs, along with a disc that promises to test and tune your MPC setup.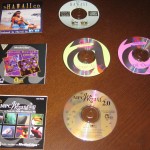 Wrap-Up
I would be remiss if I neglected to mention a few more pieces of multimedia creation software in my collection. First, there's the Barbie Storymaker. I actually gave that one a go, as you can tragically see from that link. Further, the Taco Bell fast food restaurant chain ran, as one of their many kids meal promotions, a series of 4 simple Comics Constructor CD-ROMs. I played briefly with it here and again during an exploration of XML data formats and the parsing thereof (which the software uses).
Posted in Software Museum |

Comments Off on Museum of Multimedia Software, Part 4