August 15th, 2010 by

Multimedia Mike
This installment includes a bunch of old, discontinued Adobe software as well as some Flash-related mutlimedia software.
Screen Time for Flash Screen Saver Factory
"Create High Impact Screen Savers Using Macromedia Flash."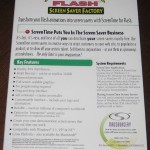 Requirements include Windows 3.1, 95 or NT 3.5.1. A 486 computer is required to play the resulting screensavers which are Flash projectors using Macromedia Flash 3.0.
Monster Interactive Instant GUI 2 Read the rest of this entry »
Posted in Software Museum |

Comments Off on Museum of Multimedia Software, Part 2