If Michael can show off the very first pictures from his new digital camera, then so can I… where "new" is roughly July, 2003. I was organizing thousands of digital photos from the last 6 years and found what must be the first pictures from my current digital camera, based on the filename. And wouldn't you know, the pictures were of felines: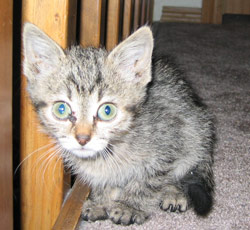 It's all coming back now — I invested in the Canon Powershot S400 back when I was fostering a family of 5 kittens and their mother for the local animal shelter.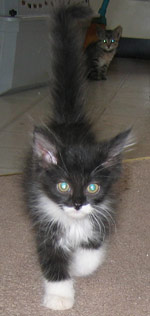 So it has come to this– posting cat pictures. Eh, it's a holiday. Above was Scooter. He was the bravest of the litter. This was feeding time: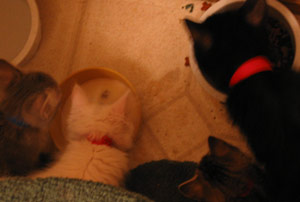 As you can plainly see, I'm not a very good photographer. Plus, I had a phenomenal amount of difficulty adjusting to this new camera, which was a substantial feature upgrade from the S100 I had purchased 2 years earlier. Many of my earliest photos can out very blurry or with saturated colors until I learned how the camera expected to be used.