April 26th, 2009 by

Multimedia Mike
Since gcc 4.4.0 has been formally released, it's time to re-run the compiler output benchmarks. Further, I finally sat down and put my mind toward getting the latest Intel C compiler installed and operational. I met with limited success. I haven't been able to get the 32-bit compiler working. After the tedious rigmarole of getting version 11.0.081 installed, I launched the program without any parameters:

$ /opt/intel/Compiler/11.0/081/bin/ia32/icc
Segmentation fault

Grrrrr… why do I even bother? Fortunately, the intel64 (x86_64) compiler is operational. At the same time I was grabbing the Linux version, I noticed that there is a Mac OS X version, though it is somewhat down-rev at 11.0.059. I still downloaded that and tried it out. I was able to get it to build 32-bit binaries but not 64-bit.
So the upshot, FATE-wise, is that I have put 11.0.081/Linux/x86_64 and 11.0.059/Mac OS X/x86_32 into the system for continuous building and testing. At the time of this writing, they're not doing so well. Lots of H.264 tests fail. The regressions pass for the most part, though.
But I stubbornly proceeded with the output benchmarks anyway. This is how the compilers are performing, per my usual method (best time out of 2 runs on the same, long, HD file; no hand-crafted ASM optimizations enabled):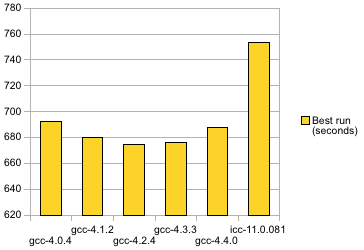 The gcc versions demonstrate similar performance to the first round of 64-bit tests. As for the icc 64-bit results, well, I don't think I need to interpret that for you. I will tell you that I first ran it with no special options. Then I ran it with "–cpu=core2" which improved its run time by about 3 seconds. The gcc configurations used no special options.
However, there is a deeper issue. As indicated by the FATE tests, icc is incorrectly decoding H.264 video. Thanks to the 10-second validation files generated during the benchmarks, I am able to see that, what should look like this (from gcc 4.4.0):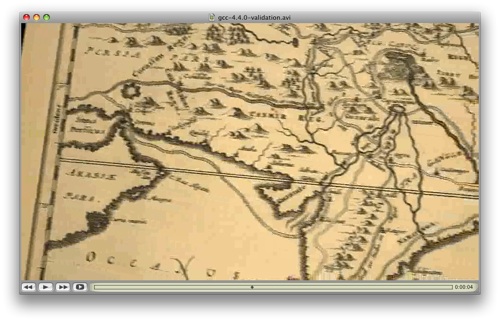 turns out like this (icc 11.0.081):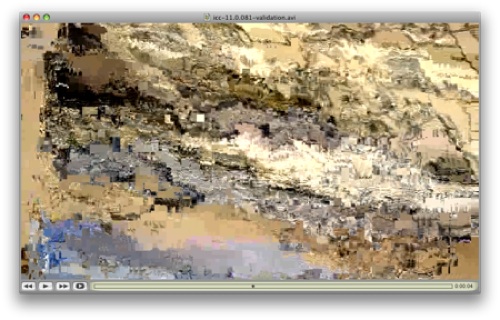 This makes me wonder what is so special about the FFmpeg H.264 decoder that icc has so much trouble digesting it. Is the code especially tricky? Or does it have a lot of tight loops that icc sees as opportunities for (mistaken) vectorization?
Another issue that concerns me regarding this latest series of Intel C compilers: I only have an evaluation license for 31 days. I'm not sure what happens after that. Presumably, I don't get to use the compiler anymore. However, Intel seems to rev their compiler so often that I wonder if each minor update comes with a 31-day evaluation license.
See Also:
Posted in FATE Server |

12 Comments »