March 4th, 2012 by

Multimedia Mike
The projects (FFmpeg / Libav) just got a WMA lossless decoder. For those keeping score, this means that there are open source methods for decoding every single one of Microsoft's proprietary audio codecs (Windows Media Audio, or WMA): WMA v1, WMA v2, WMA9/Pro, WMA Voice, and now WMA lossless. Currently, it's only advertised to decode 16-bit audio (no 24-bit). Also, when I first tried it a few days ago, it didn't decode the very end of the single sample file I concocted many years ago (luckynight.wma). But that might be cleared up by now.
Some other recent developments in the projects that I wanted to call out: An encoder for the Apple ProRes encoder from Kostya; XWD (X window dump) image decoding and encoding from Paul B. Mahol; a Sun rasterfile encoder from Aneesh Dogra.
And then there's the new playback system for CDXL files, also courtesy of Paul B. Mahol. I wasn't familiar with this format until I wrote this post, which is surprising, given the format's vintage. This was a CD-ROM FMV format favored for Amiga computers. Here it is in all its 160x120x10fps glory: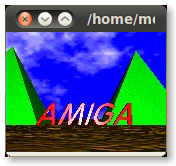 That's the amigaball.cdxl sample available in the repository. The sample is 3835910 bytes large and plays for about 24 seconds. This yields a data rate of about 159 kbytes/second. So, yeah, single-speed CD-ROM FMV.
Posted in General |

7 Comments »