March 6th, 2007 by

Multimedia Mike
Here is a grab bag of miscellaneous Transformers. First is a group of Autobots:
Click for larger image
The 3 rightmost Transformers fit better into my discretionary toy budget which is why I tended to accumulate more of them. The 2 of the left (one of which I couldn't figure out how to fully transform anymore), if I recall correctly, were some sort of special mail order Transformers. I could be mistaken.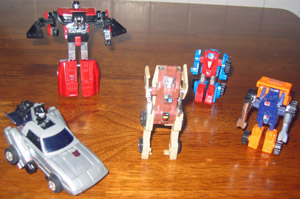 Click for larger image
And a group of assorted Decepticons:
Click for larger image
I had one of the various Decepticon jets (Dirge, I think) and it was hard to keep him altogether through the years. I had one of the six green Constructicons. The automobile was one of the 5 Decepticons that formed into a much larger robot, the Motorcons or some such.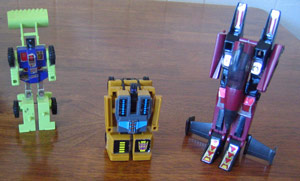 Click for larger image
Posted in Robots Of The 80s |

5 Comments »