February 28th, 2007 by

Multimedia Mike
Now let's get into Gobots, the other transforming robot from the 80s. The people who engineered these machines came up with some goofy ideas. I'll always remember Tom Hanks in the 1988 movie Big where he had no qualms about calling out the naked emperor by stating that it wouldn't be much fun to play with a transforming building. In light of that, it's pretty hard for me to understand how I ended up with 4 of these Gobots (I'm pretty sure they came from that line) that were actually rocks that transformed into robots.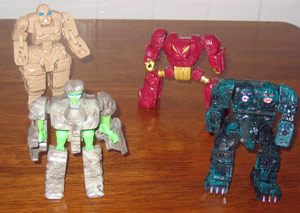 Click for larger image
See? Rocks, and not altogether convincing rocks, at that (do rocks usually have eyes?):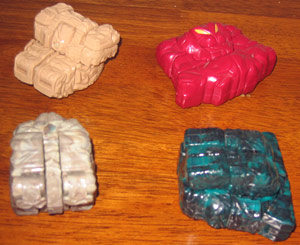 Click for larger image
A group of 4 Gobots– smaller, cheaper than Transformers. I recall that these were all benevolent Gobots:
As "adapted" on Cracked.com's Poor Man's Version feature (#3: Gobots vs. Transformers)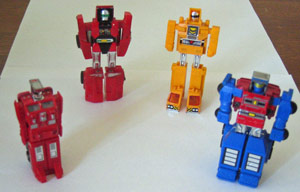 Click for larger image
And their transformations: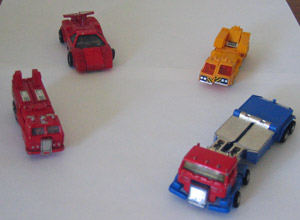 Click for larger image
A second batch of Gobots. 2 Shuttle Gobots (don't remember how I procured both).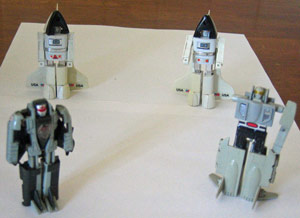 Click for larger image
The F-15 Gobot is Leader-1, head dude of the good Gobots. The Soviet MiG was a bad Gobot, though not the leader. None too subtle in the metaphors there.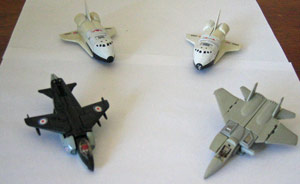 Click for larger image
And a batch of busted Gobots. I can pretty well certify that these were all toys that other kids gave me after they didn't want them anymore because I usually took much better care of my toys.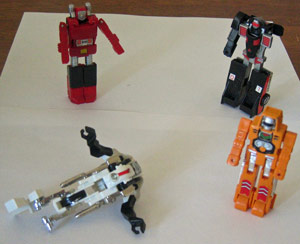 Click for larger image
Upper left robot is Scooter (thinking outside the box on the names). Lower left is Cy-kill, the renegade Gobot leader.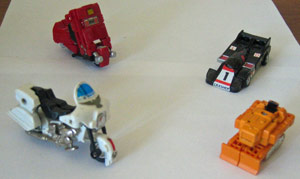 Click for larger image
I also used to have the Gobot command center. Quite a piece, that. I finally ditched that before I my last move, however.
Posted in Robots Of The 80s |

10 Comments »