August 15th, 2016 by

Multimedia Mike
I have been assisting The Translator in the translation of another mid-1990s adventure game. This one isn't quite as multimedia-heavy as the last title, and the challenges are a bit different. I wanted to compose this post in order to describe my thought process and mental model in approaching this problem. Hopefully, this will help some others understand my approach since what I'm doing here often appears as magic to some of my correspondents.
High Level Model
At the highest level, it is valuable to understand the code and the data at play. The code is the game's engine and the data refers to the collection of resources that comprise the game's graphics, sound, text, and other assets.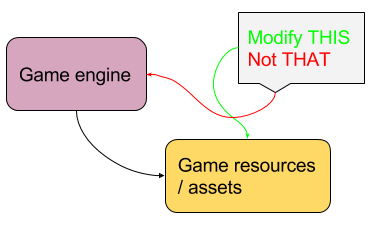 Simplistic high-level game engine model
Ideally, we want to change the data in such a way that the original game engine adopts it as its own because it has the same format as the original data. It is very undesirable to have to modify the binary engine executable in any way.
Modifying The Game Data Directly
How to modify the data? If we modify the text strings for the sake of language translation, one approach might be to search for strings within the game data files and change them directly. This model assumes that the text strings are stored in a plain, uncompressed format. Some games might store these strings in a text format which can be easily edited with any text editor. Other games will store them as binary data.
Read the rest of this entry »
Posted in Game Hacking |

4 Comments »