February 11th, 2010 by

Multimedia Mike
There have been some great additions to FFmpeg in recent weeks. Most notable is an Indeo 5 video decoder. Congratulations to everyone who worked hard to reverse engineer this codec that was used in quite a few video games. The sample I selected for a FATE test spec is called Educ_Movie_DeadlyForce.avi:
The video is much funnier in its original context (though it's no longer posted there). Thankfully, the math behind Indeo 5 is bit exact which allows me to enter a test spec right away.
While Indeo 5 was used in quite a few PC games through the years, no game-related format can touch Bink. FFmpeg now includes a Bink file demuxer. Further, FFmpeg now has decoders for both variations of Bink audio (designated DCT and RDFT), which can also occur in Smacker files.
So I added new FATE test specs to cover those new additions. I also went through the FATE test coverage wiki page and eliminated a bunch of low-hanging fruit. Sometimes, there were samples (some difficult to find) at the samples archive; other times, it was necessary to do a Google search for "filetype:<file extension>". To give you an idea of the current trends in the shifting sands of the internet, such searches invariably seem to yield Facebook pages as their top hits.
These are the new FATE tests:
Michael has been at work fixing more formal H.264 conformance vectors. 2 new tests that reflect this work are h264-conformance-frext-frext_mmco4_sony_b and h264-conformance-frext-frext2_panasonic_b. Further, I am in the process of amending the ea-mad (now ea-mad-adpcm-ea-r1) test to use a sample that has EA R1 ADPCM in addition to EA Madcow video. The new sample is staged and I will update the spec to reflect that new sample when I activate the new specs.
Regarding the iff-ilbm test, I could only find one sample on the internet for that format. It's a bit weird: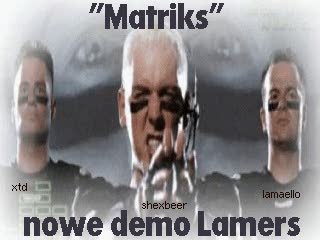 It came from a demoscene archive. I wonder if this immortalized test vector is self-deprecating humor of one's own demo group or slander of a rival demo group?
Posted in FATE Server |

17 Comments »