July 24th, 2008 by

Multimedia Mike
I have a been a big fan of the Linux Hater's Blog for several months now. So I was overjoyed to see that my work received mention on the blog not once but twice in as many days! Most notably, today, he addresses Flash playback. But yesterday's entry linked to my jungle of Linux audio programming APIs.
I feel like I've finally arrived.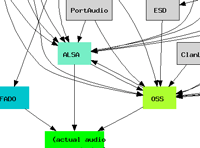 Some people attack that graph as being outdated. They're right, you know– I really should update it to see how much more of a mess the situation currently is. I showed the graph to the leader of the PulseAudio project at LinuxTag in 2007 and he was quick to point out that it was missing quite a few tangled vines. I wager that there are 3 or 4 more boxes to add as well.
What strikes me as I review LH's growing archive is how few topics he has touched on. I keep reading since I am confident he will eventually cover them.
2 Responses
martin Says:
July 25th, 2008 at 3:12 am

I've been a big fan of linux haters for a while now also! It's great reading with complaints from someone with a clue

Reimar Says:
July 26th, 2008 at 10:41 am

Well, except for the comments on LinuxHater, most are about as annoying as the constant 64-bit whining on your other blog, even though I would agree with the wish if I had any use for Flash ;-)