January 24th, 2010 by

Multimedia Mike
It's time to do a new compiler smackdown for a few reasons:
It has been quite awhile since the last one.
I received a request to know how icc 11.1 measured up.
I wanted an excuse to post a picture of the GCC cheerleaders.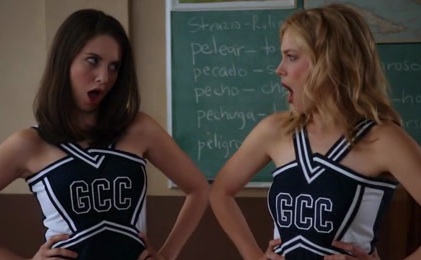 For this round, I tested x86_64 on my Core 2 Duo 2.0 GHz. I compiled FFmpeg with 6 versions of gcc (including gcc 4.5, svn 156187), 3 versions of icc, and the latest (svn 94292) of LLVM. Then I used the resulting FFmpeg binaries to decode both a Theora/Vorbis video and an H.264/AAC video.
Ogg/Theora/Vorbis, 1920×1080 video, 48000 Hz stereo audio, nearly 10 minutes: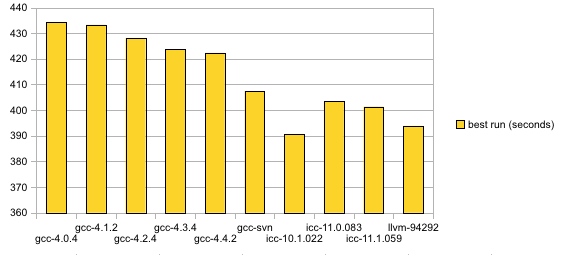 MP4/H.264/AAC: 1280×720 video, 48000 Hz stereo audio, 4.5 minutes: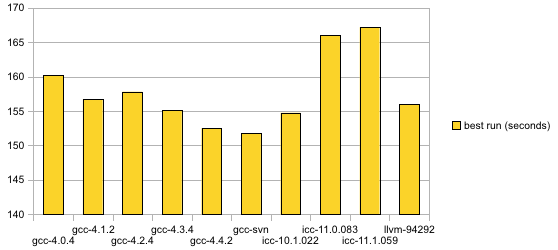 Wow! Look at LLVM go. I take back all, or at least some, of the smack I've typed about it in previous posts. Out of the free compiler solutions, LLVM makes my Theora code suck the least.
Other relevant data about this round:
FFmpeg SVN 21390 used for this test
Flags: '–disable-debug –disable-amd3dnow –disable-amd3dnowext –disable-mmx –disable-mmx2 –disable-sse –disable-ssse3 –disable-yasm' used for all configurations; also used '–disable-asm' which might make a lot of those obsolete now.
gcc 4.3-4.5 used "-march=core2 -mtune=core2"; icc versions used "–cpu=core2 –parallel"
See Also:
Posted in General |

36 Comments »