October 4th, 2006 by

Multimedia Mike
Back in 1998, I started a web project called the Internet NES Database to catalog information about games for the greatest video game console system of all time, the Nintendo Entertainment System. I reasoned that a web database needed to be searchable but I couldn't find any literature on exactly how to create a search engine. So I sat down and thought about it and came up with a solution. I eventually refined the idea and later wrote this article about the design decisions I made but never got around to publishing it anywhere. I came across the article on my hard drive recently and figured I may as well publish it in case someone, somewhere might find it interesting.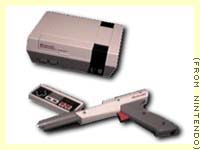 It's weird to think that I was building an elaborate search mechanism to index approximately 760 items (the total number of games in the database), though I had hoped to expand the database into something MobyGames-like in due time. Keep in mind that at the outset, while the data was managed in a MySQL database, the data was exposed online through a series of static HTML pages; this was 1998 and it was a little difficult and expensive to get database hosting on the internet. Thus, I could not directly query a database, and I had limited CGI scripting facilities.
Introduction
I present the approach that I took in developing a simple search engine for the Internet NES Database as well as the thinking and reasoning behind the design decisions. It's not highly sophisticated, but if you don't know anything about search engine operation, this should give you a starting point.
When I started developing my video game database in early 1998 I knew that it would be much more usable if it featured a search engine. I had no idea how to write a search engine. Web searches on topics such as "search engine theory" turned up thousands of pages claiming to reveal the secrets of getting high ranks in popular search engines. I realized that I was on my own. So I sat down and thought really hard about how to write a search engine.
Posted in Nintendo |

2 Comments »