This is the computer that performed the lion's share of FATE cycles for the past 1.5 years before Mans put a new continuous integration system into service. I've now decided to let the machine go. I can't get over how odd this feels since this thing is technically the best machine I own.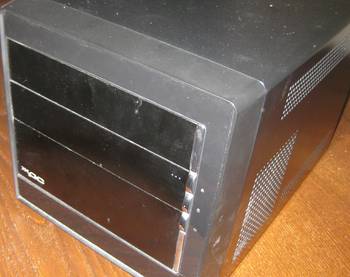 It's a small form factor Shuttle PC (SD37P2 v2); Core 2 Duo 2.13 GHz; 2 GB RAM; 400 GB SATA HD; equipped with the only consistently functional optical drive in my house (uh oh). I used it as my primary desktop from March 2007 – November 2008, at which point I repurposed it for FATE cycles.
As mentioned, the craziest part is that this is technically the best computer in my house. My new EeePC 1201PN isn't at quite the same level; my old EeePC can't touch it, of course; the Mac Mini has a little more RAM but doesn't stack up in nearly all other areas. But the Shuttle just isn't seeing that much use since the usurpation. I had it running automated backup duty for multimedia.cx but that's easy enough to move to another, lower-powered system.
Maybe the prognosticators are correct and the PC industry has matured to the point where raw computing power simply doesn't matter anymore. I fancy myself as someone who knows how to put CPU power to work but even I don't know what to do with the computing capacity I purchased over 3 years ago.
Where will the Shuttle go? A good home, I trust– I know a family that just arrived in the country and could use a computer.