Today was the day: Kostya committed his Bink video decoder to FFmpeg. Here's just one little screenshot: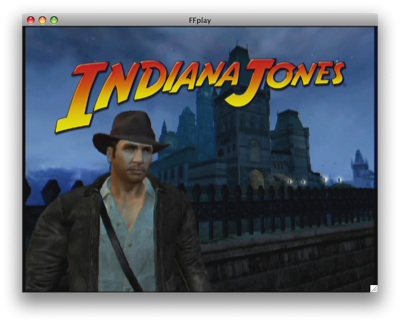 Of course, this is just one Bink file out of the literal thousands of software titles that have incorporated Bink video (the above comes from Indiana Jones and the Emperor's Tomb for Windows). For this reason, it's entirely possible that the Bink video decoder (not to mention the Bink audio decoder and the Bink file format demuxer) might not cover all the cases out there. This is especially relevant considering intel I have received from a guy who has talked to the guy who invented Bink and described the development process. The upshot is that there could conceivably be a lot of custom Bink versions out there. That's why Kostya hopes for a lot of testing with as many different Bink files that people can throw at this system. To that end, I started with my old Multimedia Exploration Journal and did a text search for every game that I recorded as using Bink.
Just think: The next time that YouTube and assorted other video uploading services update their video conversion backends, they can finally be flooded with Bink videos. (I know it seems silly, but I sometimes feel like my biggest contribution to open source multimedia has been to allow people to upload to YouTube video files that they found on their old Sega Saturn CD-ROMs).
As for FATE, is it plausible to get a basic decoding test staged at this point? I ran a simple sample through my RPC testing tool and learned that the video output is bit exact across platforms. Test staged.
(Aside: Thanks to Vitor Sessak, Valgrinder extraordinaire, for locating a memory bug in the Musepack v7 demuxer. Since I created and staged a v7 sample at the same time I staged a sample for the Musepack v8 demuxer, I have already activated a Musepack v7 demuxing test.)
Here's a project for someone that likes text processing and searching puzzles: Find a simple, efficient method for comparing my list of DOS/Windows games (here's the HTML list and here it is in CSV) against the big list of known Bink titles and find all the Bink games in my PC game collection. I have already harvested samples from: Alien vs. Predator Gold Edition, Disney's Atlantis, Gabriel Knight 3, Gods & Generals, Halo 3 (Xbox 360), In Cold Blood, Indiana Jones and the Emperor's Tomb, Monsters Inc. Wreck Room Arcade, Starlancer, Tony Hawk Pro Skater 2, Uru: Ages Beyond Myst.