May 18th, 2008 by

Multimedia Mike
Kostya recently lamented the matter of subtitle quality. I admit that subtitles are not a topic that I have traditionally cared very deeply about, popular though they may be in the multimedia scene. All the media I care about is generally already in English. Apparently, I'm one of the rare geeks who absolutely detests anime, so I have no reason to care about fansubs for media "imported," one way or another, from certain Pacific islands.
However, some time ago, I suddenly found a reason to care about subtitles. It turns out that subtitles don't have to contain bad translations. I'm a huge fan of the old TV show Mystery Science Theater 3000 (a.k.a. MST3K). In a nutshell, the silhouettes of a guy and his 2 robot puppets make fun of rotten movies. They crack an incredibly wide variety of jokes and it's unlikely anyone can understand every one of them. Leave it to a collaboration of internet geeks to develop an annotation project where users can submit quotes and annotations corresponding to particular timecodes in the lousy movies. These annotations go into a database where they can be downloaded as plaintext .srt subtitle files.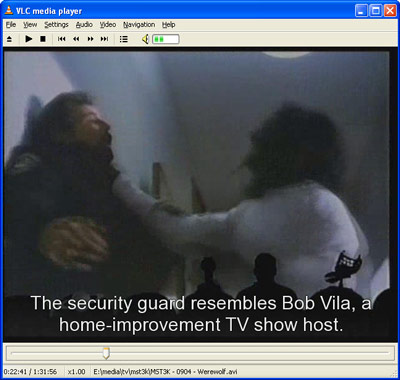 "Now what we're doin' here, Bob, is gettin' killed by a werewolf."
Pictured is an annotation I added for episode 0904 – Werewolf. This is nothing new in the context of DVDs — I remember watching a popup trivia subtitle track on the Spider-Man DVD. But I'm wondering if there are other annotation projects like this one out there on the net for other niche areas of interest.
Posted in General |

2 Comments »