My new EeePC 1201PN netbook has 2 GB of RAM. Call me shortsighted but I feel like "that ought to be enough for me". I'm not trying to claim that it ought to be enough for everyone. I am, however, questioning the utility of swap space for those skilled in the art of computing.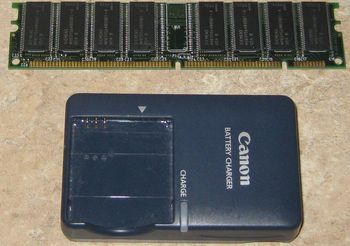 Technology marches on: This ancient 128 MB RAM module is larger than my digital camera's battery charger… and I just realized that comparison doesn't make any sense
Does anyone else have this issue? It has gotten to the point where I deliberately disable swap partitions on Linux desktops I'm using ('swapoff -a'), and try not to allocate a swap partition during install time. I'm encountering Linux installers that seem to be making it tougher to do this, essentially pleading with you to create a swap partition– "Seriously, you might need 8 total gigabytes of virtual memory one day." I'm of the opinion that if 2 GB of physical memory isn't enough for my normal operation, I might need to re-examine my processes.
In the course of my normal computer usage (which is definitely not normal by the standard of a normal computer user), swap space is just another way for the software to screw things up behind the scenes. In this case, the mistake is performance-related as the software makes poor decisions about what needs to be kept in RAM.
And then there are the netbook-oriented Linux distributions that insisted upon setting aside as swap 1/2 gigabyte of the already constrained 4 gigabytes of my Eee PC 701's on-board flash memory, never offering the choice to opt out of swap space during installation. Earmarking flash memory for swap space is generally regarded as exceptionally poor form. To be fair, I don't know that SSD has been all that prevalent in netbooks since the very earliest units in the netbook epoch.
Am I alone in this? Does anyone else prefer to keep all of their memory physical in this day and age?