December 18th, 2005 by

Multimedia Mike
Vladimir "VAG" Gneushev has uncovered the world's simplest vector quantizer codec. An FMV format named AVS was used in a 1994 CD-ROM title called Creature Shock. Intraframes carry a vector codebook and vector map; interframes also carry a change map. The audio chunks are actually Creative VOC chunks. Complete details are here.
The strangest thing about this particular VQ codec is that the vectors can have a dimension of 3. For example, the intraframes are comprised of 3×3 pixel vectors. 3 is not divisible by many common video frame resolutions. This game ran on IBM VGAs in 320x200x256 color mode. But the resolution of the movies was actually 318×198. Look carefully at a screenshot from the game: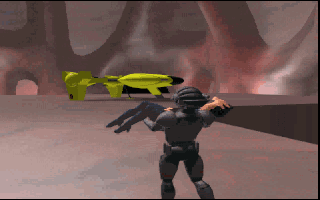 screenshot courtesy of MobyGames
The top row, bottom row, and 2 right columns are all left undrawn.
So, who wants to implement this format first? If the inspiration strikes you, here are some sample files.
Posted in Game Hacking, Reverse Engineering, Vector Quantization |

1 Comment »