I was complaining not long ago about a common program that was growing too smart by default. It's happening again. Is Mozilla Firefox your browser of choice? Did you think that version 2 already did everything you could possibly think of (except for maybe windowless plugins under Unix/X11)? I have been keeping up with version 3 (unflatteringly called 'Minefield') since the alphas. Take a look at what is coming: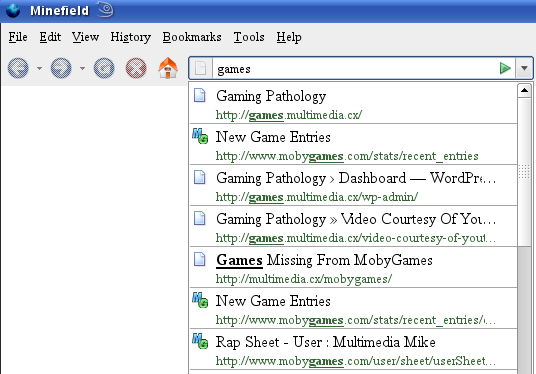 Firefox users might be used to the feature where typing in part of a URL autocompletes to recently-used URLs that begin the same way. The developers decided to take the feature one step further and start searching for the text string in any part of any recently used URL. Or its title, for that matter. Honestly, this could be useful in scenarios I have encountered, such as when I remember visiting a URL recently that lived somewhere under biguniversity.edu, but since the precise server was named www.foo-dept.biguniversity.edu, the autocomplete did not necessarily help. Still, in those cases, I could always fall back on the more sophisticated history panel.
And just to make the idea gaudy, a recent beta update added both the title and the site icon (favicon.ico) to the dropdown autocomplete system.
It's a new behavior to learn. It is probably configurable through the extensive "about:config" browser page, but this will be the new default. Again, rather than being "smarter" and helping the user, the program is simply exhibiting a new behavior pattern that users will have to actively learn so they can again be productive with the same application.