August 16th, 2005 by

Multimedia Mike
A few weeks ago, I posted a new thread over on Bisqwit's Nesvideos forums about my experimental codec research: Custom Video Codec For Console Movies. There has been some interesting discussion regarding PAVC-related compression concepts and it is worth reading.
It has been a little while since I have posted a gratuitous console game screenshot. For a change, instead of posting a screenshot of a game of which I have fond memories, I am posting a screenshot of one of the most dreadful games ever published on the NES: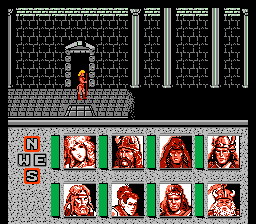 Heroes of the Lance
Thanks as always to MobyGames and their vast screenshot archive.
Posted in Open Source Multimedia, PAVC |

1 Comment »