Metal Gear Solid: The Twin Snakes for the Nintendo GameCube is very heavy on the cutscenes. Most of them are animated in real-time but there are a bunch of clips — normally of a more photo-realistic nature — that the developers needed to compress using a conventional video codec. What did they decide to use for this task? On2 VP3 (forerunner of Theora) in a custom transport format. This is only the second game I have seen in the wild that uses pure On2 VP3 (first was a horse game). Reimar and I sorted out most of the details sometime ago. I sat down today and wrote a FFmpeg / Libav demuxer for the format, mostly to prove to myself that I still could.
Things went pretty smoothly. We suspected that there was an integer field that indicated the frame rate, but 18 fps is a bit strange. I kept fixating on a header field that read 0x41F00000. Where have I seen that number before? Oh, of course — it's the number 30.0 expressed as an IEEE 32-bit float. The 4XM format pulled the same trick.
Hexadecimal Easter Egg
I know I finished the game years ago but I really can't recall any of the clips present in the samples directory. The file mgs1-60.vp3 contains a computer screen granting the player access and illustrates this with a hexdump. It looks something like this: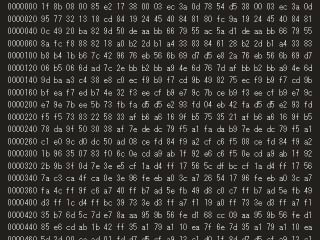 Funny, there are only 22 bytes on a line when there should be 32 according to the offsets. But, leave it to me to try to figure out what the file type is, regardless. I squinted and copied the first 22 bytes into a file:

 1F 8B 08 00   85 E2 17 38   00 03 EC 3A   0D 78 54 D5
 38 00 03 EC   3A 0D 

And the answer to the big question:

$ file mgsfile
mgsfile: gzip compressed data, from Unix, last modified: Wed Oct 27 22:43:33 1999

A gzip'd file from 1999. I don't know why I find this stuff so interesting, but I do. I guess it's no more and less strange than writing playback systems like this.