June 1st, 2011 by

Multimedia Mike
FFmpeg and associated open source multimedia projects such as xine, MPlayer, and VLC have long had a rebel mystique about them; a bunch of hackers playing fast and loose with IP law in order to give the world the free multimedia experience it deserved. We figured out the algorithms using any tools available, including the feared technique of binary reverse engineering. When I gave a presentation about FFmpeg at Linuxtag in 2007, I created this image illustrating said mystique: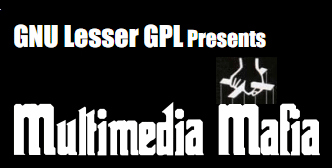 It garnered laughs. But I made the point that we multimedia hackers just press on, doing our thing while ignoring legal threats. The policy has historically worked out famously for us– to date, I seem to be the only person on the receiving end of a sort-of legal threat from the outside world.
Who would have thought that the most credible legal threat to an open source multimedia project would emanate from a fork of that very project? Because that's exactly what has transpired:

Click for full threat
So it came to pass that Michael Niedermayer — the leader of the FFmpeg project — received a bona fide legal nastygram from Mans Rullgard, a representative of the FFmpeg-forked Libav project. The subject of dispute is a scorched-earth matter involving the somewhat iconic FFmpeg zigzag logo:
| | | |
| --- | --- | --- |
| | | |
| Original 2D logo | | enhanced 3D logo |
To think of all those years we spent worrying about legal threats from organizations outside the community. I'm reminded of that time-honored horror trope/urban legend staple: Get out! The legal threats are coming from inside the house!
I'm interested to see how this all plays out, particularly regarding jurisdiction, as we have a U.K. resident engaging an Italian lawyer outfit to deliver a legal threat to an Austrian citizen regarding an image hosted on a server in Hungary. I suspect I know why that law firm was chosen, but it's still a curious jurisdictional setup.
People often used to ask me if we multimedia hackers would get sued to death for doing what we do. My response was always, "There's only one way to know for sure," by which I meant that we would just have to engage in said shady activities and determine empirically if lawsuits resulted. So I'm a strong advocate for experimentation to push the limits. Kudos to Michael and Mans for volunteering to push the legal limits.
Posted in Legal/Ethical |

11 Comments »