Some people are curious about what kind of equipment is required to program a Sega Dreamcast. This is my setup: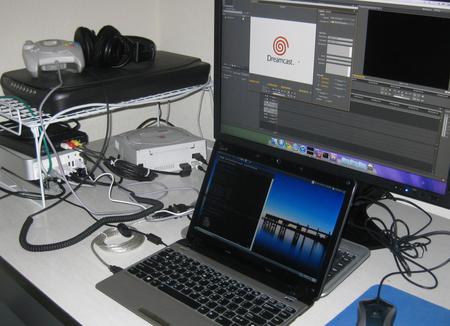 It's a bit overcomplicated. The only piece in that picture which doesn't play a role in the Dreamcast development process is the scanner. The Eee PC does the heavy lifting of development (i.e., text editing and cross compilation) and uploads to the Dreamcast via a special serial cable. Those are the most essential parts and are really the only pieces necessary for a lot of algorithmic stuff (things that can be validated via a serial console). But then I have to go up a level where I output video. That's where things get messy.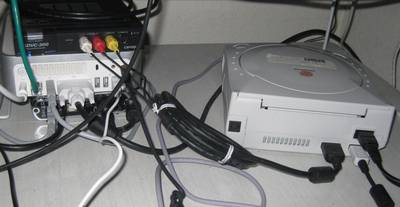 The Mac Mini and giant monitor really just act as a glorified TV in this case. Ideally, it will be more than that. The DC outputs audio and video via composite cables to a Canopus DV capture bridge. That's connected via FireWire to the external hard drive underneath the Mac Mini, which is connected to the Mac. Adobe Premiere Pro handles the DV capture / display.
One day I hope to have something worthwhile to capture.