Sometime last week, IMDb's Studio Briefing notified me that there was an online service for paying for officially licensed DVD images that can be burned (just once, officially): New Movie Download Service Launches Today. The service is CinemaNow.
So, I actually decided to boot into Windows XP and try it out. First, I had to find a movie that I actually wanted. Last Wednesday night, they had 101 titles to choose from, not too many that might be termed "mainstream". I settled on In Good Company that I saw in the theater and somewhat enjoyed. The price was $3 less than what Amazon charges, as a basic value comparison.
I thought it best to go with all the recommended software. I bit the proverbial bullet and upgraded to the beta of Windows Media Player 11, which is the first I have heard of it. I wonder what new multimedia support challenges it will cause for Linux multimedia? The experience also requires a piece of 3rd party, .NET-based software called FluxDVD.
The whole thing goes fairly seemlessly and takes about 4 hours as promised: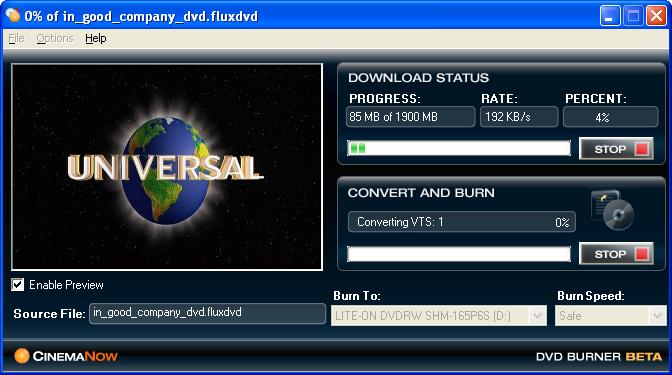 The DVD plays in a standalone player as promised. I wonder if the DVD itself features the standard CSS encryption? Probably does but I haven't checked empirically yet. The source file remains on my hard drive after download. It has a .fluxdvd extension, as seen in the screenshot, and contains some DRM-looking stuff at the front. Double-clicking launches the WMP 11 beta which performs some network activity before playing the file.
The disc image is 1.9 GB. I was wondering if the file was a Windows Media file that got converted to MPEG-2 on the fly by the above program (the "Convert and Burn" was my first clue). Colin Hill points out for me that the actual In Good Company DVD is a dual layer affair.
In other DRM news, I finally got a TV show off of iTunes. It was free. I was sorely disappointed, both with the content and the presentation. Content, because the Blade movie (at least the first one) was so awesome; but the pilot of the spinoff TV series is so bad that they have to give it away for free. Presentation, because the best that iTunes can do is display the 320-width window doublesized to 640. This doesn't look so great on a 1280-width display. Is it really that tough to do full screen? I think not, especially if iTunes renders the video directly as YUV. I suspect that iTunes probably holds back the full screen feature for a premium version of the program, just as Apple's QuickTime Player does.