July 14th, 2010 by

Multimedia Mike
I was poking at the data files of a really bad (is there any other kind?) interactive movie video game known simply by one letter: D. The Sega Saturn version of the game is comprised primarily of Sega FILM/CPK files, about which I wrote the book. The second most prolific file type bears the extension '.dg2'. Cursory examination of sample files revealed an apparently headerless format. Many of the video files are 288×144 in resolution. Multiplying that width by that height and then doubling it (as in, 2 bytes/pixel) yields 82944, which happens to be the size of a number of these DG2 files. Now, if only I had a tool that could take a suspected raw RGB file and convert it to a more standard image format.
Here's the FFmpeg conversion recipe I used:

 ffmpeg -f rawvideo -pix_fmt rgb555 -s 288x144 -i raw_file -y output.png

So that covers the files that are suspected to be 288×144 in dimension. But what about other file sizes? My brute force approach was to try all possible dimensions that would yield a particular file size. The Python code for performing this operation is listed at the end of this post.
It's interesting to view the progression as the script compresses to different sizes: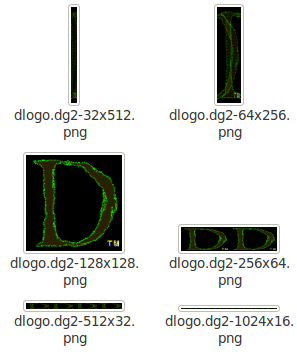 That 'D' is supposed to be red. So right away, we see that rgb555(le) is not the correct input format. Annoyingly, FFmpeg cannot handle rgb5[5|6]5be as a raw input format. But this little project worked well enough as a proof of concept.
If you want to toy around with these files (and I know you do), I have uploaded a selection at: http://multimedia.cx/dg2/.
Here is my quick Python script for converting one of these files to every acceptable resolution.
work-out-resolution.py:


Posted in Game Hacking, Python |

13 Comments »