July 31st, 2011 by

Multimedia Mike
WARNING: This post is a bunch of nostalgia. Feel free to follow along if you recall the DOS days of the early-mid 1990s.
Also, if you're interested in the Gravis Ultrasound Experience CD-ROM, you can download the compressed ISO image here (137 megabytes). This only contains the data track as a .ISO file. However, the Internet Archive hosts the disc in CUE/BIN format which includes all the data tracks.
I finally let go of my Gravis Ultrasound MAX sound card a little while ago. It felt like the end of an era for me, even though I had scarcely used the card in recent memory.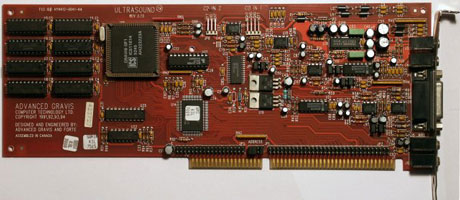 The Beginning
What is the Gravis Ultrasound? Only the finest PC sound card from the classic DOS days. Back in the day (very early 1990s), most consumer PC sound cards were Yamaha OPL FM synthesizers paired with a basic digital to analog converter (DAC). Gravis, a company known for game controllers, dared to break with the dominant paradigm of Sound Blaster clones and create a sound card that had 32 digital channels.
Read the rest of this entry »
Posted in General |

12 Comments »