June 21st, 2011 by

Multimedia Mike
Remember Intel's custom flavor of H.263 cleverly named I.263? I think I have finally found an application that used it thanks to a recent thrift shop raid— Intel Video Phone: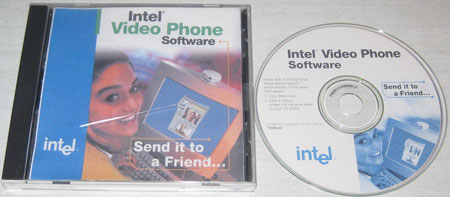 The root directory of the disc has 2 copies of an intro.avi video. One copy uses Intel Indeo 3 video and PCM audio. The other uses I.263 video and an undetermined (presumably Intel-proprietary) audio codec — RIFF id 0x0402 at a bitrate of 88 kbits/sec for stereo, 22 kHz audio. The latter video looks awful but is significantly smaller (like 4 MB vs. 25 MB).
This is the disc marked as "Send it to a friend…". Here's the way this concept was supposed to operate:
You buy an Intel Video Phone Camera Pack (forgotten page courtesy of the Internet Archive) which includes a camera and 2 CDs.
You install the camera and video phone software on your computer.
You send the other CD to the person whom you want to be able to see your face when you're teleconferencing with them.
The other party installs the software.
The 2 of you may make an internet phone call presumably using commodity PC microphones for the voice component; the person who doesn't have a camera is able to see the person who does have a camera.
In a cunning viral/network marketing strategy, Intel encourages the other party to buy the physical hardware as well so that they may broadcast their own visage back to the other person.
If you need further explanation, the intro lady does a great job:
I suspect I.263 was the video codec driving this since Indeo 3 would probably be inappropriate for real time video applications due to its vector quantizing algorithm.
Posted in General |

14 Comments »