The Sega Dreamcast was famously emblazoned with a logo proudly announcing that it was compatible with Windows CE: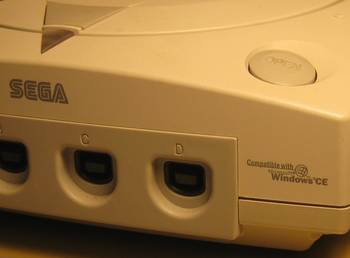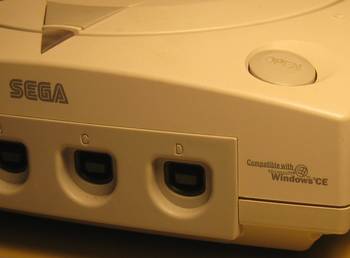 It's quite confusing. The console certainly doesn't boot into some version of Windows to launch games. Apparently, there was a special version of CE developed for the DC and game companies had the option to leverage it. I do recall that some game startup screens would similarly advertise Windows CE.
Once the homebrew community got ahold of the device, the sky was the limit. I think NetBSD was the first alternative OS to support the Dreamcast. Meanwhile, I have recollections of DC Linux and LinuxDC projects along with more generic Linux-SH and SH-Linux projects.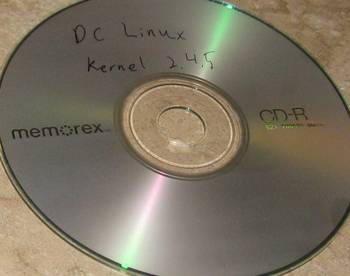 DC Evolution hosts a disc image available for download with an unofficial version of DC Linux, assembled by one Adrian O'Grady. I figured out how to burn the disc (burning DC discs is a blog post of its own) and got it working in the console.
It's possible to log in directly via the physical keyboard or through a serial terminal provided that you have a coder's cable. That reminds me– my local Fry's had a selection of USB-to-serial cables. I think this is another area that is sufficiently commoditized that just about any cable ought to work with Linux out of the box. Or maybe I'm just extrapolating from the experience of having the cheapest cable in the selection (made by io connect) plug and play with Linux.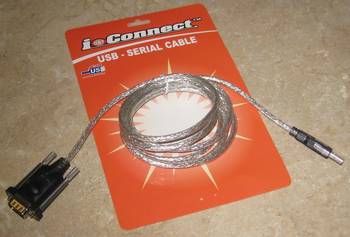 Look! No messy converter box in the middle as in the Belkin case. The reason I went with this cable is that the packaging claimed it was capable of up to 500 Kbits/sec. Most of the cables advertised a max of 115200 bps. I distinctly recall being able to use the DC coder's cable at 230400 bps a long time ago. Alas, 115200 seems to be the speed limit, even with this new USB cable.
Anyway, the distribution is based on a 2.4.5 kernel circa 2001. I tried to make PPP work over the serial cable but the kernel doesn't have support. If you're interested, here is some basic information about the machine from Linux's perspective, gleaned from some simple commands. This helps remind us of a simpler time when Linux was able to run comfortably on a computer with 16 MB of RAM.

Debian GNU/Linux testing/unstable dreamcast ttsc/1

dreamcast login: root
Linux dreamcast 2.4.5 #27 Thu May 31 07:06:51 JST 2001 sh4 unknown

Most of the programs included with the Debian GNU/Linux system are
freely redistributable; the exact distribution terms for each program
are described in the individual files in /usr/share/doc/*/copyright

Debian GNU/Linux comes with ABSOLUTELY NO WARRANTY, to the extent
permitted by applicable law.

dreamcast:~# uname -a
Linux dreamcast 2.4.5 #27 Thu May 31 07:06:51 JST 2001 sh4 unknown

dreamcast:~# cat /proc/cpuinfo  Continue reading