I stubbornly refuse to give up my classic Asus Eee PC 701, one of the original netbooks. It's 2.5 years old now but still serving me well. While these are supposed to be fairly disposable machines, I'm actually using this thing more and more these days (longer commute may have something to do with it). I decided to upgrade the battery from the included one (4400 mAh, rated for 2-2.5 hours). 7200 mAh batteries abounded for this Eee PC model but I decided to go crazy and buy the 10400 mAh battery.
And it's huge. No one can keep a straight face when gazing upon this beast.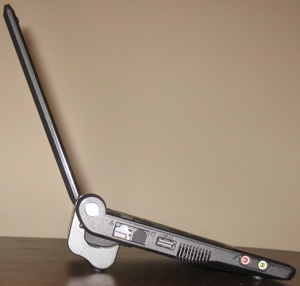 Naturally, I'm curious whether this battery is actually that much better. I searched to find if there are any established methodologies for testing battery life. It seems that the most established method is the most intuitive method, scientifically: Find a way to simulate typical usage and measure how long it takes before the machine dies from lack of battery charge.
Methodology Continue reading →