Multimedia Exploration Journal: May 12, 2005
Attack of the 1-dollar bargain bin! This company named PC Treasures, Inc. licenses and distributes a number of titles that somehow wound up in the $1 section of the local Super Target store.
Amazon Trail 3rd Edition
"From The Creators of The Oregon Trail," warns the front cover. Wasn't that originally a text adventure game? This game seems to be a highly graphical adventure, if the screenshots are any indication. The box back also mentions QuickTime trademarks.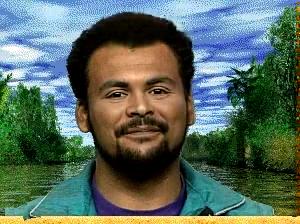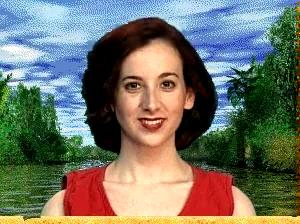 There are 350+ SVQ1/PCM QuickTime files on the disk. Mostly, it is talking heads in front of colorful backgrounds as shown above. Curiously, I do not get any audio out of these files even though they are reported to contain PCM.

There are also Smacker demo files on the disk, apparently in support of some other demos. Further, there is a smackx32.x32 file serving as the Smacker DLL.
Magic: An Insider's View
...hosted by one Harry Anderson. If you do not know who that is, here is a site that bills itself as the One And Only Harry Anderson Fan Site. Oh, now I remember-- the judge from Night Court!

The disc only has about 2 MB according to my Linux utilities. I will probably need to run it under Windows for a better analysis.
Spy Kids: Learning Adventures; Mission: The Underground Affair
The title sounds suitably twisted. But the back cover copy promises to teach planning and decision-making, strategic thinking, problem-solving, trial and error, geometry, reading, and math. And with all the text on the back of the box, I just can not help but zero in on the misspelled "copyrights" ("copyrigths"?).

On a technical multimedia level, the game seems to be based on Macromedia. Video and audio are handled by .swf and .swa files, respectively.
Garfield's Mad About Cats
"Now a Major Motion Picture!" the box is sure to remind us. Ostensibly, you can build the world's most perfect cat and learn about more that 30 types of cats. The back cover has the QuickTime and Macromedia logos.
Ski Jumping 2004
Not much known about this title as all since all the data is locked up in the 500 MB setup file. Will return to this one later...
Power Pinball
"Guaranteed Non-Stop Pinball Madness." The game includes 7 tables-- Jackpot, Jailbreak, Tarantula, The Tomb, The Visitors, Kick Off, and Dare Devil. All of the data is locked up in a large .CAB file, though.
Arcade Pinball
Apparently from the same folks who brought us the last game, only this time the game promises "Fast and furious pinball action". It has the same issue as the first game-- 300 MB of data locked up in a .CAB file.

It does have a PATS/ directory with a series of AVI and WAV files. The AVI files introduce each of the tables for this edition which include Soccer, Team 98, Roswell, The Avengers, and Judge Dredd. I am a little puzzled by the latter 2 since the back copy does not list extensive copy about copyrights and trademarks (Judge Dredd is a comic book and The Avengers is an old television show). Maybe the actual game has more legalese.

by Mike Melanson (mike at multimedia.cx).

Multimedia Exploration Journal
Multimedia Research Institute Main Page