August 16th, 2016 by

Multimedia Mike
As indicated in my previous post, the Translator has expressed interest in applying his hobby towards another DOS adventure game from the mid 1990s: Return to Ringworld (henceforth R2RW) by Tsunami Media. This represents significantly more work than the previous outing, Phantasmagoria.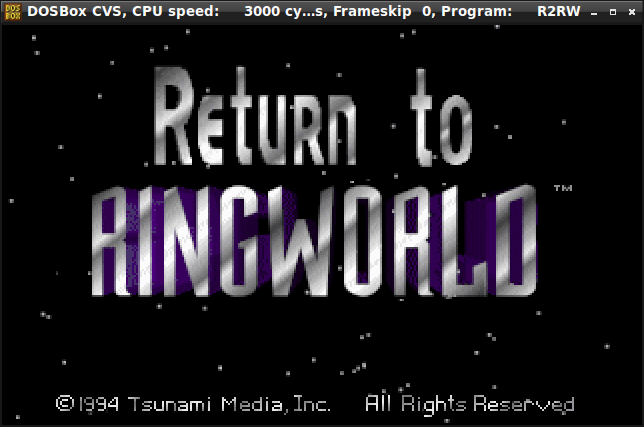 Return to Ringworld Title Screen
I have been largely successful thus far in crafting translation tools. I have pushed the fruits of these labors to a Github repository named improved-spoon (named using Github's random name generator because I wanted something more interesting than 'game-hacking-tools').
Further, I have recorded everything I have learned about the game's resource format (named RLB) at the XentaxWiki.
New Challenges
The previous project mostly involved scribbling subtitle text on an endless series of video files by leveraging a separate software library which took care of rendering fonts. In contrast, R2RW has at least 30k words of English text contained in various blocks which require translation. Further, the game encodes its own fonts (9 of them) which stubbornly refuse to be useful for rendering text in nearly any other language.
Thus, the immediate 2 challenges are:
Read the rest of this entry »
Posted in Game Hacking |

1 Comment »